Sun Contracting - Austria
FOR COMMERCE, INDUSTRY AND THE PUBLIC SECTOR
Sun Contracting AG's photovoltaic contracting enables commercial customers to use a photovoltaic system without investment costs. The complete photovoltaic system is installed on your roof and operated by Sun Contracting AG. You use the solar power generated directly for your production and benefit from a long-term reduction in your energy costs.
No capital investment necessary
You do not buy the photovoltaic system, but we make it available to you on your own roof surface and operate it, in return for an energy remuneration. The photovoltaic system on your roof does not incur any costs for you during the contracting period. Therefore, no capital investment or down payment is necessary for delivery, installation and material.
Immediate amortization of the photovoltaic system
Due to the elimination of construction costs and the fixed energy remuneration, the photovoltaic system pays for itself for the contracting customer immediately after commissioning.
Maximum cost reduction
We design your photovoltaic system in such a way that your grid consumption is reduced to a minimum, thus giving you the greatest possible independence from increases in electricity prices and grid fees. Since you cover a large part of your energy needs yourself and the energy remuneration is fixed, your savings increase steadily over the entire contracting period.
Dimensioning according to your energy needs
The size and output of the photovoltaic system is planned individually according to your current and future energy requirements. Future developments of your company are taken into account in order to optimally cover your electricity needs in the long term and to guarantee the greatest possible reduction in energy costs.
Added value after the contract term
At the end of the contracting period, the photovoltaic system is not dismantled, but – if you wish – becomes your property. From this point on, you use the solar electricity produced free of charge – but you bear the maintenance costs. The contracting period and a possible extension will be determined individually with you, but will be at least 20 years.
Fixed electricity costs through energy remuneration
For the use of solar power, you pay us an energy fee that is based on the actual electricity yield of the photovoltaic system. This payment is not subject to fluctuations and decouples you from increases in electricity prices and energy supplier prices in proportion to the yield of the system.
Solar power directly for your production
The electricity is generated directly on your roof and flows into your production. The aim is to consume as much of the generated solar power as possible in your operation and to avoid feeding it into the grid in order to minimise the possible need to purchase electricity from the grid.
No maintenance and servicing costs
During the contracting period, we take care of all maintenance and servicing. This also includes all cables, inverters, control devices, etc. In addition, the function and performance of your system is constantly monitored. In this way, we avoid yield losses and guarantee the best service.
High-quality components and innovative technology
Sun Contracting is a long-term and sustainable concept, which is why only high-quality and durable technology components are installed. These include not only the modules and the inverter, but also optional energy controllers, power storage units and other additional devices that maximize the self-consumption of solar power in your business.
At least 25 years performance guarantee of the modules
We only use photovoltaic modules with a 25-year linear performance guarantee from the manufacturer. However, this performance guarantee does not mean that the photovoltaic system is defective after 25 years! Many photovoltaic systems already run for over 35 years without any significant loss of performance. (Example: University of Applied Sciences of Southern Switzerland, 10 kWp, built in 1982).

100% SOLAR POWER, NO INVESTMENT COSTS
Our photovoltaic contracting is suitable for commercial enterprises, industrial companies, farmers, public institutions, apartment buildings and hotels or restaurants.
The prerequisite is high daytime electricity consumption, ideally also at weekends. The projects are secured through use and purchase agreements. The term is 20 years.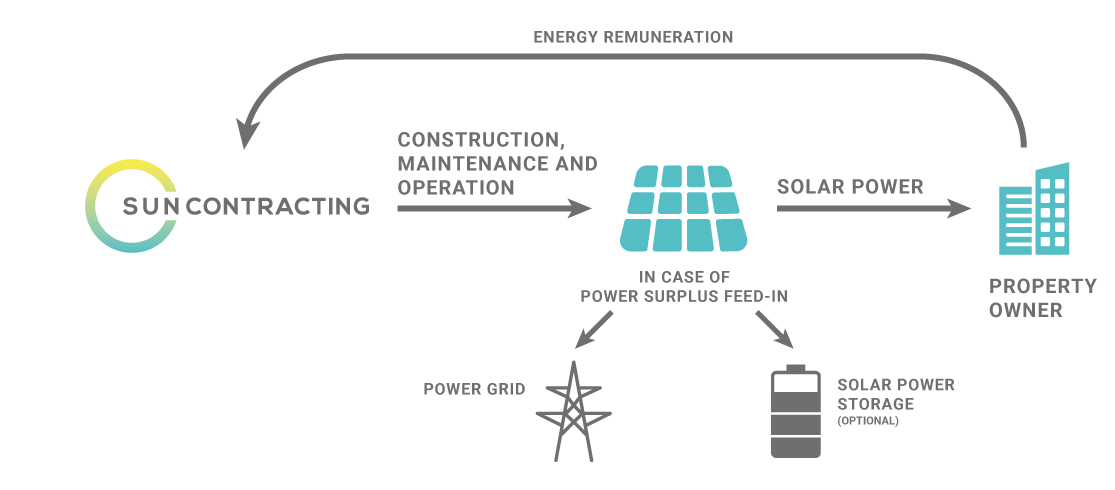 EXAMPLE: COMPANY AUSTRIA - 30 YEARS
Assumption: 104,900 kWh total electricity demand, of which 52,450 kWh daily electricity demand annually, photovoltaic system 49.95 kWp rated power € 0.183 per kWh, net, transfer of ownership after 20 years, electricity price increase 1.5% p.a.
Excerpt from our portfolio