Sun Contracting - Germany
CONTRIBUTING TO A CLEAN ENERGY FUTURE WITH YOUR OWN ROOF SURFACE
By providing your roof surface, you actively contribute to a clean future of energy and benefit financially by receiving the roof rent. Optionally, you can also purchase the solar power produced and thus efficiently reduce your energy costs.
No capital contribution necessary
The photovoltaic system on your roof does not incur any costs for you during the contracting period – neither for the construction nor for the maintenance and servicing of the photovoltaic system. No capital contribution, no investment or down payment is necessary on your part.
Long-term leasing of your roof surface
Instead of leaving your roof surface unused, you make it available to us for the installation of a photovoltaic system. In return, we pay you a roof rent, so you benefit financially. The roof rent is paid to you either once or monthly, you decide.
Meaningful use as a sustainable contribution
By making your roof available, you are making a valuable contribution to Germany's energy future instead of leaving the surface unused. The solar power produced contributes to making Germany's energy production a bit more sustainable and brings more independence from fossil fuels and nuclear energy.
Fixed energy costs in case of electricity purchase
When you purchase solar electricity, you benefit from fixed electricity costs, as the remuneration is not subject to fluctuations. By using solar power, you also decouple yourself from increases in electricity prices and grid operator prices in proportion to the yield of the system.
Transfer of ownership after 20 years
At the end of the contracting period, the photovoltaic system is not removed but becomes your property. From this point on, you use the solar power produced free of charge or benefit from feed-in remunerations. The contracting period is agreed with you individually, but is at least 20 years.
No maintenance and servicing costs
During the contracting period, we take care of all maintenance and servicing. This also includes all cables, inverters, control devices, etc. In addition, the function and performance of your system is constantly monitored. In this way, we avoid yield losses and guarantee the best service.
High-quality components and innovative technology
Sun Contracting is a long-term and sustainable concept, which is why only high-quality and durable technology components are installed. These include not only the modules and the inverter, but also optional energy controllers, power storage units and other additional devices that maximize the self-consumption of solar power in your business.
At least 25 years performance guarantee of the modules
We only use photovoltaic modules with a 25-year linear performance guarantee from the manufacturer. However, this performance guarantee does not mean that the photovoltaic system is defective after 25 years! Many photovoltaic systems already run for over 35 years without any significant loss of performance. (Example: University of Applied Sciences of Southern Switzerland, 10 kWp, built in 1982).

PHOTOVOLTAIK CONTRACTING
With our contracting model, we install and operate a photovoltaic system on the roof of your building. You incur no costs for materials, delivery and installation. In addition, we compensate you for the use of your roof area in the form of a roof rent, which is paid either annually or monthly - you decide.

By providing us with your roof surface, you enable us to produce clean solar energy that is fed into the public grid and thus increases the share of sustainable energy sources in electricity generation in Germany. Optionally, you can also purchase the electricity produced yourself and cover your energy needs sustainably. Regardless of this, the photovoltaic system becomes your property after the minimum term of 20 years.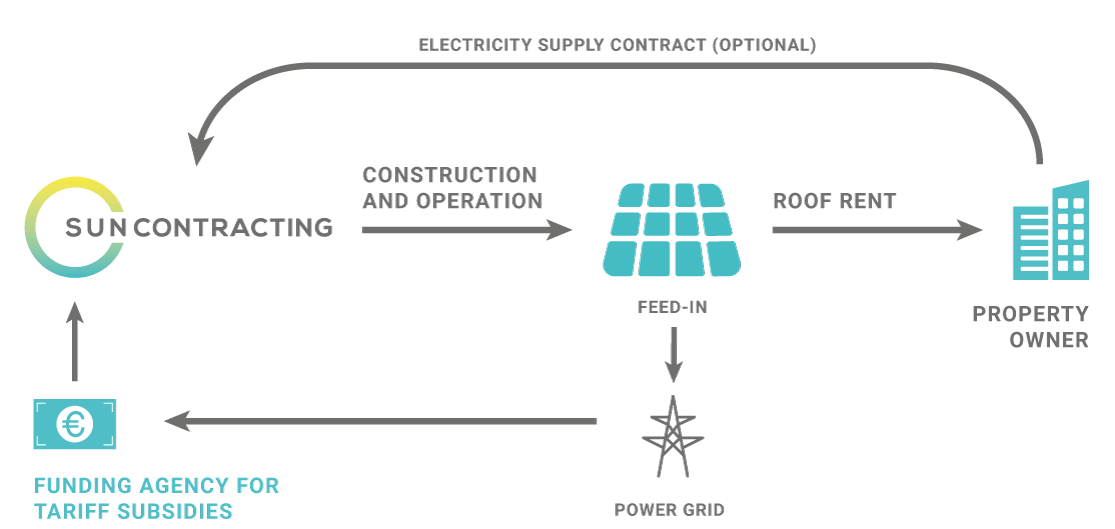 Excerpt from our portfolio